Are you associated with building/automobile construction or furniture manufacturing?
Do you need screws now and then?
If yes, this blog is meant for you to get an insight into self-drilling screws and their applications.
Continue reading to know more.
What is a self-drilling screw?
It is a tool that has the same design features as a drill bit or cutting tool. It doesn't need a pilot hole or a drilling machine to perform as a fastener. Its function is the same as the cutting tool, including feed rate, required cut depth, and material type. It works smoothly on metals, mild steel, and wood.
Types of self-drilling screws  
Cement board screws
Bugle head screws
Eye lag screws
Hex head self-drilling screws
Flathead self-drilling screws
Truss self-drilling screws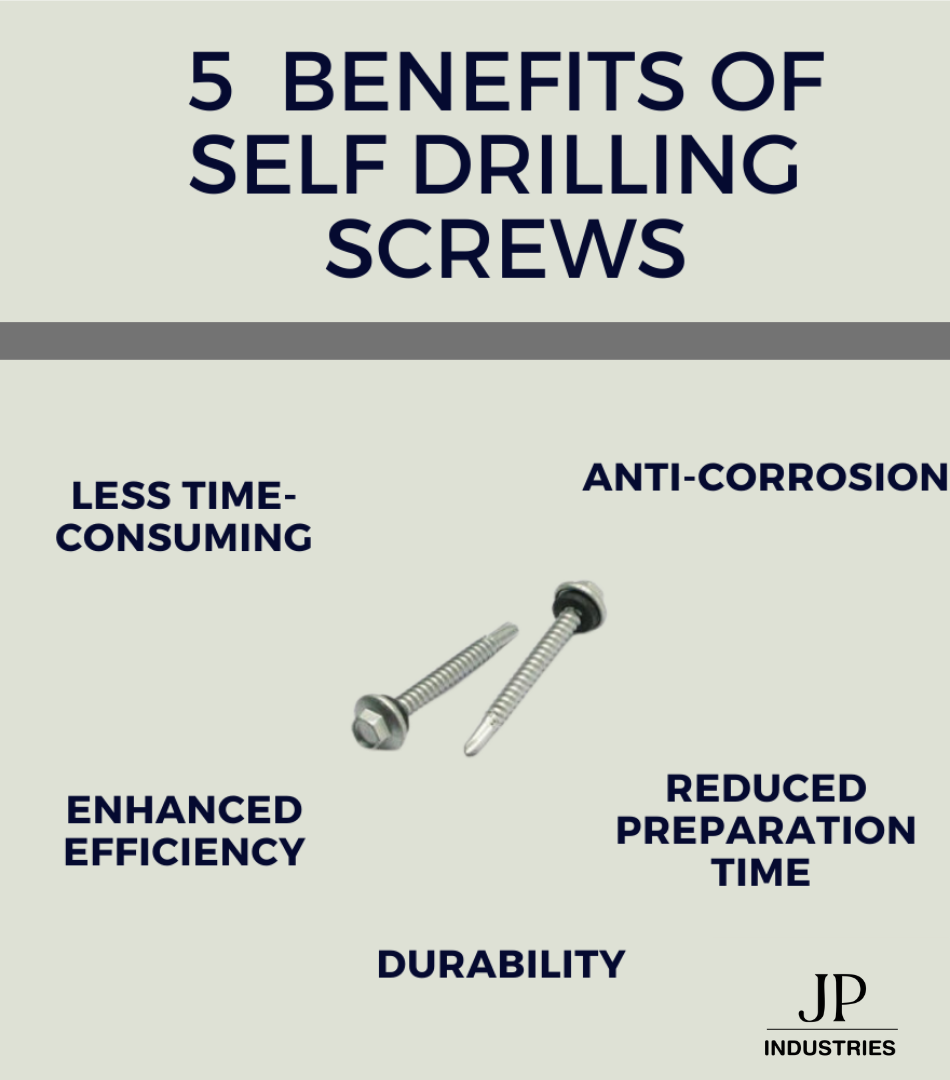 Benefits of self-drilling screws
An overwhelming demand for self-drilling screws is the new trendsetter. The benefits of the screws have helped to reach dizzying new heights. Let's delve deeper.
Less time-consuming
Like the other screws, self-drilling screws don't need any pilot hole. It can drill, tap and fasten all at one go. It will save your time from performing drilling and binding the same. Not only the time, but your resources and stress will also be simplified while using it.
Anti-corrosion
Rusty screws may reduce the metal structure element's strength and reduce the thickness of the same. On that note, they are corrosion-resistant. It is made of rugged steel to increase the hardness. Additionally, it is long-lasting for providing years of service. They are the customer's first choice due to their plethora of benefits.
Durability 
Self-drilling screws have accessories to prevent the rust possibility. Additionally, it lasts longer against any inclement effect. Therefore, it enhances the durability of the self-drilling screws and their reapplications. It makes drilling a simple task.
Enhanced efficiency
Self-drilling screws need minimum preparation for drilling into the materials. It has the precise thread that is created by the screws. It is also used for the items that are required to be dissembled or assembled. The screw follows the same line each time to ensure a consistent and robust bond.
Reduced preparation time 
Already you know that self-drilling screws don't need any kind of pre-fixing or pre-drilling. It provides efficient performance by reducing the time for preparation. Therefore, rest assured to get a durable and precise bond. It has been designed in a way to penetrate or to cut material directly. Therefore, cut out the pre-drilling step to create a tight thread.
How theyy are used
Not only the benefits will help you out to get the maximum from self-drilling screws. You need to know the usage procedure. Here we go-
Decking– Self-drilling screws have eliminated the tiresome drilling pilot holes. Therefore, it helps to reduce the job time by making the process more efficient. The entire process takes only a quarter of time under the pre-drilling method.
Roofing– For metal roofing, self-drilling screws are designed with a washer to ensure a tight seal. Additionally, it has a drill bit which makes inserting the screws quick and easy.
Medical– Self-drilling screws are used for the medical field, including tissue and muscle repair, organ replacement, orthopedic surgery, etc. They are preferred for their unmatched insertion speed.
Sheet metal– Now a days, metal sheets are used to frame a wide range of products. It is used as the fastener for ensuring tight connections. It increases overall efficiency.    
Reach Us Today
At J.P industries, we have a wide range of roofing materials available that will fit your need for sure. Our quality products will help you to stand your creation from the crowd. Serving our clients with top-notch quality products is our main motto, and we are successfully into it. For any inquiry, contact us today. You can also visit our website to get more information.