Location
Plot no. 29, Sector 1, Parwanoo, Himachal Pradesh 173220
94599 - 92222
Don't hesitate to contact us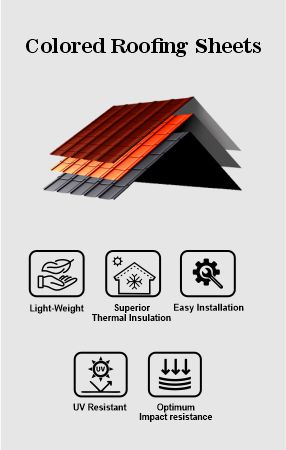 Coloured roofing sheets
Zinc, Aluminum, Copper, and Tin are commonly used in metal roofing sheets. Metal roofing sheets have excellent insulating properties and can make backyards, garden structures, garages, home cladding, and industrial roofs.
You can choose from these Profiles Hi Rib Profile, Panel Profile and Pencil Profile according to your preference.
Advantages 
Light-weight

Superior thermal insulation

Easy installation and handling

UV resistant

Optimum Impact resistance
 Applications
Signages and layouts

Industrial and residential roofing

Horticultural coverings

Capped walkways
Ceiling sheets
 Ceiling tiles, often called ceiling panels, are lightweight building materials that are used to cover ceilings. They are usually meant to improve the appearance and acoustics of a room and are placed in an aluminium grid to give some thermal insulation.
You can choose from these Profiles Hi Rib Profile, Panel Profile and Pencil Profile according to your preference.
Features
Reduced deflection and greater strength, super spanning capabilities are available.

Mechanical interlocking caused by embossments results in an excellent composite action.

Because it is carefully designed, it offers more cost savings and design flexibility.

Installation is simple and safe.

Durability saves money on concrete and other reinforcement expenditures.

Higher corrosion resistance ensures more extended longevity.
Cladding sheets
Cladding sheets are commonly used as sturdy fencing panels for privacy and enhanced security. They are suitable for cladding the sides of modest household shed up to large industrial and agricultural structures.
 Main Advantages of Cladding sheets are:
Corrosion and weather resistance are excellent.

Physical and mechanical toughness

Exceptional strength-to-weight ratio

Extremely long-lasting

Thermal conductivity is reduced.

Dimensional stability and adaptation

Aesthetically pleasing

UV resistant and has flexibility; because it is light in weight, it is simple to handle and install.
Polycarbonate Sheets
Polycarbonate is a transparent thermoplastic that comes in a sheet form. It is highly durable and absorbs very little moisture, making it resistant to both impact and water damage. It's also chemically resistant and flame-retardant.
Manufactured from superior quality polycarbonate, Polycarbonate sheets are the complete day-lighting solution. Here are some features of Polycarbonate Sheets
 

UV resistant

Versatile

Cost-effective

Have resistant property

Ease of construction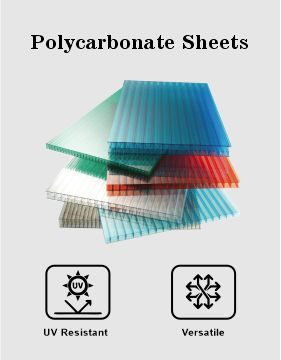 Stone-coated metal roof tile.
A stone-coated metal roof tile is made from steel and then coated with a protective layer of Aluminum/Zinc. A layer of roofing stone chips is then attached to the steel with an acrylic film.
They have good thermal insulation

They have good strength

Corrosion and weather resistance are excellent