Do you have a perfect veranda space or an extra garden area unused? Do you want to remodel your houses with some genius beauty adding? if your answer is yes, jump for an intelligent option and shift towards "Polycarbonate Roofing Sheet." It is reported that the market has grown from USD 1.7 billion (2020) and is expected up to USD 2.2 billion (2025). People love it because of its exceptional chemical properties that give unique looks and durability. 
Apart from "Polycarbonate Roofing Sheet" longevity, it has incredible cool looks that enhance your room, verandah, or empty space. Polycarbonate Sheets are lighter in weight and come in different shades of color. Here we help you out with its benefits and practical area for use.
Benefits of Polycarbonate Roofing Sheets
Previously Polycarbonate Sheets were used for the industrial purpose; however, it is also being used for home décor purpose. People are shifting from glass and acrylics towards Polycarbonate Sheets because of their durability and effects. Additionally, the benefits of Polycarbonate Sheets are listed below-
Polycarbonate Sheets are extremely light weighted and run for a more extended period. Sheets are easy to construct and install; additionally, they can be fixed through screws and pins. It can be easily welled; sheets can be cut by a competent staff, like scissors or knife. Moreover, a hassle frees installation that gives your home a unique look.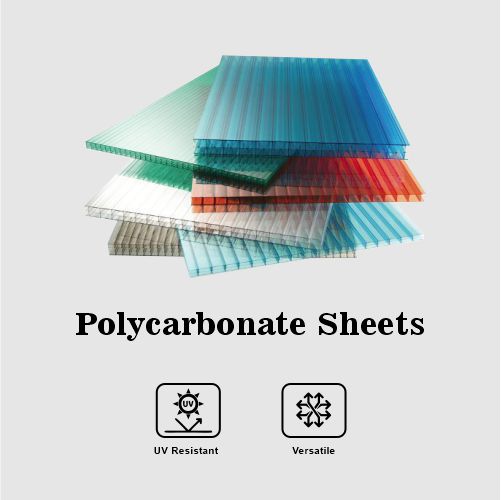 Apart from its durability and lightweight, it can be carried miles without any issues and is cost-effective. Polycarbonate Roofing Sheets are not there to harm your budget; the cost of labor and installation is immensely low. If you want to give your home or office a short budget look with elegance, Polycarbonate Sheets are the right option to go with.
Polycarbonate Roofing Sheets have come in many colors creative designs. Unlike glass, it comes in many shapes and designs. Moreover, the looks are amazing.  
Protect from Ultraviolet Rays 
Now, protection from ultra violates rays is the most beneficial that can be shared for Polycarbonate Sheets. It has some magical properties that strain harmful greenhouse effects and UV rays. If you want, you can grow trees underneath. It is your primordial accountability to protect kids and your garden from harmful UV rays and greenhouse gases; Polycarbonate Sheets are the best solution to go with.
Polycarbonate blocks extra sound and noises due to its material mechanism. It keeps your privacy in the room and outsides as well.
Effective area for using Polycarbonate Roofing Sheets
Although it is your choice to fix Polycarbonate Roofing Sheets, they can be get fitted in any circumstances, starting from the room, empty outer space, garden, and verandah. Polycarbonate Sheets is a super comfy and light-weighted, environment-friendly, creative design that perfectly comes within your budget.
Conclusion
From the overhead discussion, it is clear that shifting from acrylic to Polycarbonate Sheets is the perfect option if you want to give houses, rooms, or your office striking glamourous looks within budget. Most offices and houses are shifted towards this sheet, durable and light-weighted. Labor costs are low, and installations are hassle-free. Polycarbonate Sheets will protect from fire, storms, and rain for their amazing magical properties. Added to its pros, sheets protect you and your houses from harmful sunrays.