Considering roofing is one of the essential concepts that protect your home from any external effects, we are here to guide you through roofing ideas and types of roofing notions. Roofing sheets are one of the most essential aspects of protecting your home, ensuring its durability. Whether it's a scorching summer or heavy rainy day, it is always there unconditionally to protect your sweet home and give it a classy look. 
This article will help you through different types of roofs and names and their benefits. 
Types of roofing sheets
Here we are with 10 types of roofing sheets and names and the entire list is given below- 
Gable roof
The gable roof is mainly referred to as a triangle-shaped roof where two pitches meet at the topmost level. It is one of the famous old patterned roofing styles that are easy to build and install. It shades well and protects your home from other external factors like storms, sunrays, and others. 
Hip Roof
If your home already has an excellent ventilation system or is airy, it's good to go with Hip roofing styles, as it has no option for ventilation. It is slightly tricky to install; however, it goes well if you are looking for your exterior house. 
Dutch Roof
A Dutch roof is a Hip roof with a small gable area at its end. It is easier to access and carry. It comes with an extra benefit like its lower portion enables you to bring sunlight into your room and has extra space areas.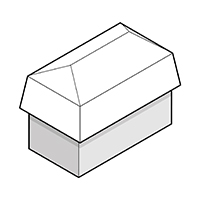 Mansard roof
Mansard's roofing ideas mainly originated from French technology and design. It is also a bit difficult to install and build, and it has two slopes, and the bottom part is a slippery texture. This roofing style ensures your inner room space more than the other options. 
Flat roof
A flat roof is not 100% flat, though. However, it has a low-slopped area that seems to be flat. It helps to run off extra water.
Shed roof
A shed roof is quite similar to a flat roof. However, it has more pitch, and it's good to use it with other roofing styles. 
Butterfly roof
If you are looking for something unique and aesthetically eye-catching, you can go for a butterfly roof, and it also enables enough amounts of sunlight and air. 
Gambrel roof
A gambrel roof is also called a barn roof, as it has been used for exponent barns.  
Dormer roof
If you want to give your built roof extra protection, you may go for dormer roofing styles. It used to give you an extra shade for your original built roof. It comes with a window system that provides enough sunlight and brings and makes your room airy. 
M Shaped
M-shaped roofing styles are double gable roofing ideas with two slopped areas. This roofing idea also provides enough light and air for your room.
Contact us today!
Jp industries are one of the best roofing sheets manufacturers in India. We are committed to providing quality roofing sheets to our customers, and all our products are tested rigorously before going into the market. For more information, visit our website today.